WellWatcher®
At the heart of the LoCI system is the WellWatcher® analytics and control platform: a cloud-connected data and control platform that provides landfill gas collection system operators 24/7/365 real-time visibility into the entire gas collection system — increasing methane collection system efficiency, improving productivity, and reducing harmful emissions.
Features
Graphical user interface allows real-time gas collection system accessibility 24/7/365 via desktop, laptop, or tablet
Map view or table view with exportable data for both individual wells and aggregate gas collection system data
Operator-configured automation and alert thresholds on a system-wide and individual collection well basis
Monthly gas collection system reporting
All landfill gas collection system data is secured using TLS encryption and certificate-based host authentication
Controller
The LoCI Controller increases gas collection system efficiency, improves productivity, and reduces environmental, health, and safety risks. Controller measurement devices are recommended for all active collection wells in the landfill gas collection system.
Features
Measures landfill gas composition, including methane, oxygen, carbon dioxide, and calculated balance gas, along with temperature/ambient temperature and barometric pressure
Measures flow at each collection well using patented Venturi Flo-Wing
Measures pressure applied to the collection well and available system vacuum pressure in the vacuum riser
Data displayed in real-time on the WellWatcher® platform
Automated control based on LoCI's algorithms, the landfill collection system operator's set points, or via "remote manual" valve adjustments
Automated, precision-controlled ball valve that regulates flow at each well
Actuated ball valves available in 2", 3", or 4" sizes
Sentry
Used in conjunction with LoCI's Controller, the Sentry monitors gas composition at headers or at the inlet to the plant to provide aggregate or sectional data for gas collection system oversight. The data from a flow meter in a header — or at the aggregate gas collection point — can be integrated into the Sentry device.
Installation of the LoCI Sentry is recommended to integrate plant-level aggregate gas quality into the LoCI Control system. Sentrys should be used at gas collection system header lines to provide regional monitoring, analysis, and troubleshooting.
Features
Measures landfill gas composition in header, including methane, oxygen, carbon dioxide, calculated balance gas
Measures header temperature and pressure
Can connect to an external customer-supplied flow meter
Data displayed in real-time on the WellWatcher® platform
Liquid Level Measurement
Liquid levels inside individual collection wells in a landfill gas collection system can significantly impact overall efficiency. Proper control and measurement of liquid levels ensure that a sufficient length of perforated wellbore is exposed, allowing for more effective gas collection.
LoCI Controls can integrate liquid level measurement to improve landfill gas operations, reduce field response times, and establish more efficient downhole pump maintenance.
Features
Integrated, airtight device measures liquid levels inside wellbore within ±1 foot accuracy
Text or email alerts notify on-site personnel when liquid levels exceed thresholds
Standard well caps can be used with LoCI's Liquid Level Measurement system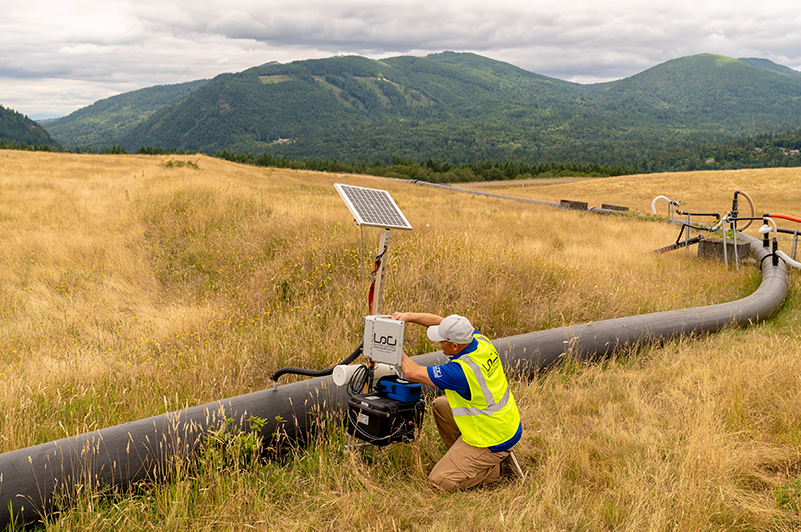 A LoCI Controls Field Service Representative performs maintenance on a Controller measurement device.
Learn How

to Maximize Methane Collection & Minimize Emissions