LoCI Controls Leads Industry Efforts on Landfill Methane Emissions Measurement with Real-Time Data Platform Development
Preliminary findings and next steps to be jointly presented with the U.S. Environmental Protection Agency
(WAREHAM, MA) November 14, 2023 — LoCI Controls, Inc., the leader in real-time data and control technology to increase methane capture and reduce emissions from landfills, today announced the development of its emissions measurement platform and preliminary findings.
The company's initial emissions measurement insights will be presented today in a joint session with the U.S. Environmental Protection Agency (EPA) Office of Research and Development, Center for Environmental Measurement and Modeling (CEMM) and Center for Environmental Solutions and Emergency Response (CESER), held during the Air & Waste Management Association's Air Quality Measurement Methods and Technology Conference in Durham, North Carolina.
According to recent U.S. EPA research, "municipal solid waste landfills are the third-largest source of methane emissions from human activities in the United States." Historically, methane emissions from landfills have often been underestimated, underpinning the growing need to focus on accurate measurement.
The latest addition to LoCI's real-time data and control system, the company's emissions measurement platform will capture emissions data continuously and at the same time as its gas collection system data, enabling landfill teams to act on the data faster and with greater precision — a true first in the landfill industry. This real-time information will offer landfills visibility into emission sources and hotspots, with data available from both temporal and spatial perspectives, to support proactive landfill gas collection operations.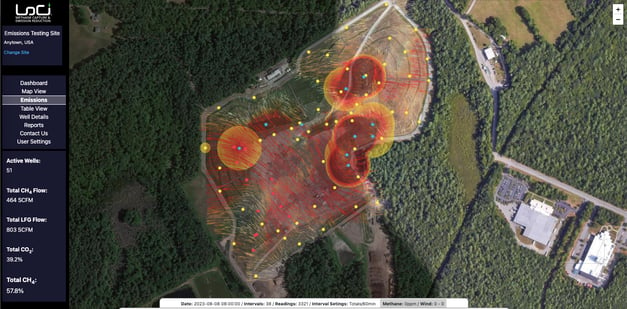 Snapshot of LoCI Controls' real-time methane emissions measurement platform and high-density mesh network
"LoCI is uniquely positioned to leverage our core technical expertise to expand our system capabilities to include real-time emissions measurement. This development will support landfill operators, offering real-time data to enhance gas collection operations and align with landfill owners' emissions reduction and sustainability goals," said Peter Quigley, CEO and Chairman of LoCI Controls.
Access the live press release on PRNewswire.
About LoCI Controls
LoCI Controls, Inc. is the leading real-time data and control company that increases methane capture and reduces emissions from landfills. Founded in 2013 by MIT graduates, the company combines on-site measurement and cloud-based software to increase landfill gas collection, while also offering on-site and remote operating support. LoCI's systems are installed on landfill projects across the United States and covered by 25 issued U.S. patents, with additional U.S. and international patents pending. For more information, visit locicontrols.com.